Then we FINALLY (and yes it's been 6 months in the making) made it to Denver to visit my brother and sister in law. It was very last minute because flights to Denver are almost ALWAYS sold out. It worked out that I finally had a weekend free and that flights were open! YAY!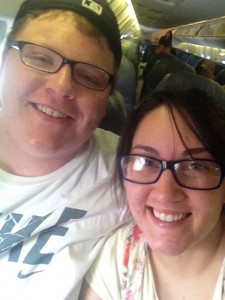 And ya… I expected the rockies to be a little bit more rockier than this. That John Denver's fulla shiiiit.
Our first stop was
The Pizzeria Locale
…holy yummy!! It's like Subway made an authentic pizza shop. You choose which type of pizza you want and your toppings. Corn, on pizza? Turns out it's delicious!
We really liked downtown Denver! So cool! Streets are a little confusing, I definitely like our grid system in Utah I've learned.
 Then we went back to their stinking cute house and chatted with them and my parents who happened to be in Denver too!  My brother and his wife bought this cute little house and have been fixing it up, I loved it! So unique and has tons of style with it. Loved it all! They're both so handy!
Sunday we skipped church. Since it was so last minute neither of us had nice clothes haha. So Sunday we went to
Jelly U Cafe.
Delish. Seriously, eating and vacations go hand in hand.
Then we drove to the Denver temple just to see the sights! Wish we could have gone in! Next time…mark my words.
Trev got home from church and Megan was at work, so we went to the park and played some crocket! I don't think I'd played since I was a kid, and probably didn't play the right rules! It was so dang fun!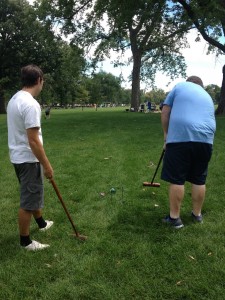 Again… food. We went to the first ever Chipolte! Dave freaked! We love it there but it was cool to go to the first one, it's tiny but cool! We ended the trip with a nice family dinner at my step sisters, talking about trips and playing with the kids! Denver was wonderful, can't wait to go back, and also, I think I could live there if I had to (even though I'm in love with Utah).
Total on trip: 3 meals paid for by family, 1 meal at Jelly U $40 (good but expensive), 1 t shirt for our quilt $10, and car rental $55. Total: $105