The Eternal City with my Eternal Companion! Rome was such a dream. We spent three days there total, two at the beginning of our trip and one at the end before we flew out! And honestly that was plenty for us! Rome is just a huge city with really cool pieces to it. But if you've been to Manhattan it's a lot like that. It was pretty dirty and there are SO many people there! Tons of citizens and lots and lots of tourists! It was almost a relief to hear English when we seldom did haha!
Where we stayed: Here for the first two nights and here the night before we flew home. We liked the first one better.
Where we ate: Breakfast: Hotels // Lunch: Here was cheap and great! And here was good. // Dinner: BEST MEAL in Rome was here :)
Our favorites: The Vatican, St. Peter's Tomb, and wandering the streets!

As soon as we landed we decided to shower and then go get some food! We were pretty hungry. We chose to go to Pastasciutta and it was really good and super close to the Vatican and our hotel. Was cheap and great! Dave got some pizza next door and it was average but still pretty good. 
This was our first time getting gelato and it did not disappoint at all. It was pretty easy to just find a shop off of the street anytime we decided to get it. I was always more adventurous than Deej with flavors, haha. Sometime's it paid off and other times his plain chocolate was just TOO good!!
Wandering the streets is just a dream! You never feel lost and there's enough street signs around that you can find where you're going if you want to. A lot was in English as well so that helped. But my favorite parts were where they don't allow cars! Just a bunch of people walking around. It was so neat!
I ALWAYS choose hotels close to train stations. It makes our walk so much shorter as well as it gives us a reference point to where we are. We rarely took a taxi anywhere because the buses and trains stopped so close to our hotel.
The walk up to our hotel :)
I can't believe how big the Pantheon is! It is seriously amazing. And it's still standing! It's unbelievable! It was most likely dedicated in about 126 AD. One of the best things we did was download the Rick Steve's podcasts! We could listen individually on our phones and not have to spend money on an audio guide! For free!
These pillars are all one piece!

Piazza Nuova was so great! Colorful buildings, fountains, street artists, loved it! 
The Fountain of the Four Rivers is in this piazza and it is so amazing!
So that was Day 1! We got delayed slightly so we landed at like 11 and got going around 2. But we packed so much in that day! The best thing we do is go to bed early that day because we're so tired, and then when we wake up we are on Italy time and good to go the rest of the trip. It was great!
Day 2!
We started the day by walking to The Vatican and visiting St. Peter's Tomb. Yes Peter, like from Peter, James and John, that Peter. It was our favorite thing in Rome! You have to get tickets really early, I got ours in January from this website. You get to go under in the catacombs and see where everyone was buried and all these tombs. Seriously so incredible.
We passed the Vatican everyday because we stayed so close and we loved it! It's so clean and pretty!
The bus station was also really close to our hotel, we could pay like $1.50 and ride the bus for 100 minutes. It would take us directly from this stop at the end of the line across town to where the Colosseum and town center is! such a great deal!
We had been walking around the Forum's on our way to The Colosseum and started to get pretty hungry. We just happened across this little ristorante and it was really good! I really trust TripAdvisor but it can be so hard to sort through everything because there are so many options. But if you're walking past a place and it has a TripAdvisor sticker, it usually means that they have great reviews! La Nuova Piazzetta did not disappoint! 
My pizza was awesome! I just LOVE sauce so much. So I dipped it in Dave's spaghetti haha! The waiter rolled his eyes at me!

MMMMMMMM This spaghetti was seriously SO good!
Dave always takes selfies before we take one together and it's so funny and cute haha!
We went back to The Vatican to try to get into the Sistine Chapel and IT WAS CLOSED. My heart broke. BUT we did get to go when we came back before our flight! So all was not lost!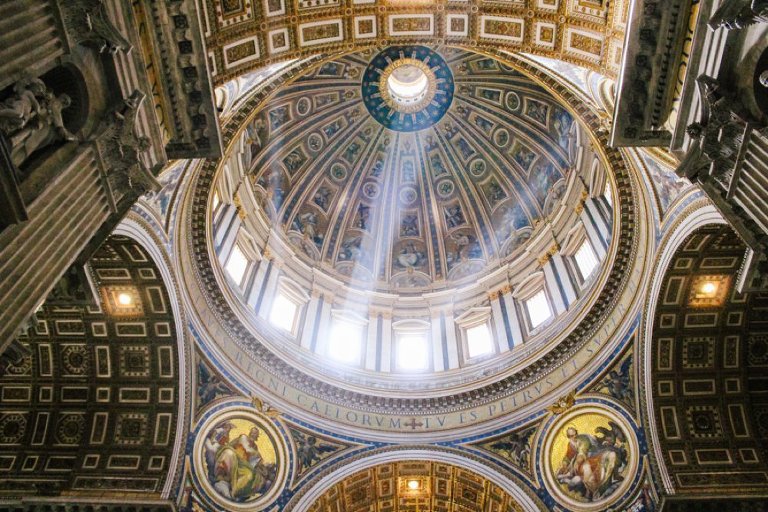 The Trevi Fountain and the Spanish steps were both huge let downs. The Fountain was under renovations and the Spanish Steps were so crowded and lots of people trying to sell you stuff. I had a couple guys get in my face and I was SO mad.. haha!
We still tried to be touristy and throw our coins though haha!
Day 3! Technically this was the last day of our trip but we spent it in Rome! We took the train down from Cinque Terre and I got to see the Sistine Chapel!